As winter approaches and days get shorter, it's time to start preparing for the cold. As you probably already know, Kansas City winters can be brutal, and while many people focus on winter-proofing their homes, they often forget to prepare their cars. This can lead to dangerous situations if you happen to get stuck on the side of the road.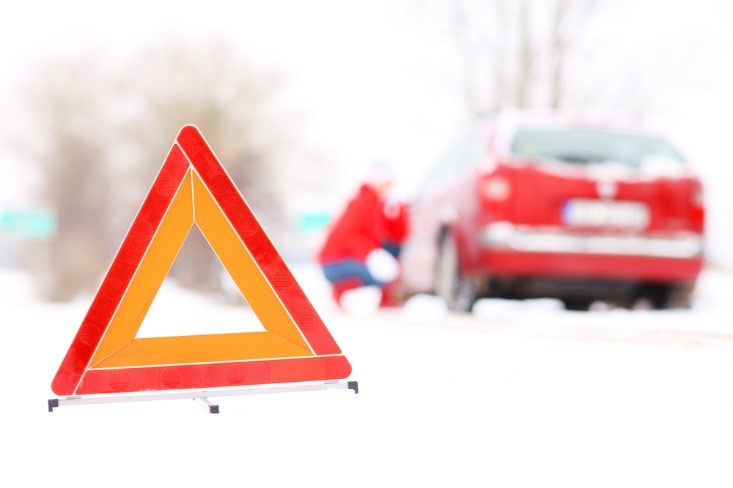 To help you stay safe and warm, here are a few items that are absolute necessities to any winter car emergency kit, should the cold weather catch you off guard.
Snow chains. If you're stuck out in the middle of nowhere, it might be too late for snow chains, but it can't hurt to have them in your trunk, just in case. They're simple enough to install and can help your car get moving if snow or ice is underfoot.
Kitty litter or sand. Let's say it's too late for the snow chains because your car is already stuck in a rut. Pouring sand or litter behind your tires is an excellent way of getting your car on the road again. It's usually a good way to limit the time spent out in the cold, too.
Road flares. Need help and don't have any other emergency supplies? Road flares are bright enough to attract attention and could save your life. The cold can wear you down and be life-threatening, so it's best to find help as quickly as possible. Light one or two flares, then wait in your car until a police officer or good Samaritan arrives.
Portable charger/battery. There's nothing scarier than being stuck on the side of an unknown Kansas City road with a dead phone battery and no other way to call for help. Keeping a charged battery in your car at all times will allow you to call a friend or tow truck, enabling you to get out of there ASAP.
Rain or snow boots. In winter, snow and mud will soak right through most shoes, leaving your feet potentially frostbitten. Thick, weather-resistant boots and socks will aid in keeping your feet dry and protected from the cold.
Flashlight. This is a must-have item for any car kit but is especially important in winter. Snow can limit visibility, making it difficult for both you and passers-by to see.
Hand warmers. Winter gloves are a no-brainer for anyone who's experienced the cold before, but one item that is often overlooked is a chemical hand warmer. They warm up gradually and keep your digits toasty warm for up to 12 hours, and fit easily in your gloves, hat, or shoes. Instead of turning your car heat on when stranded, activate a couple of these bad boys.
Ice scraper. This is the last thing any good winter emergency kit needs. An ice scraper clears your windows and mirrors easily and keeps you from having to use your fingers (or a credit card) to pick away at the ice and snow.
First aid kit. You can typically find a decent, basic first aid kit to store in your car for $20-$30 at your local department store. If you have the time, you can of course prepare your own. Having a first aid kit at the ready can certainly come in handy in the event of an accident.
Winter can be dangerous if you're not properly prepared. Start creating your winter emergency kit to help keep those dangers to a minimum, allowing you more time to sit inside, drink hot cocoa, and admire the snow from the comfort of your home. And be sure to get your auto repairs and winter car maintenance done ahead of time by visiting one of our Kansas City car dealerships. We have auto repair shops throughout the Kansas City areas in Missouri and Kansas.

Find and contact your nearest McCarthy Auto Group location to schedule auto service or ask about our current service specials. Stay safe out there!
Sources:
https://www.chamonix.net/english/chamonix/how-to-fit-snow-chains-to-your-tires
http://www.redcross.org/get-help/how-to-prepare-for-emergencies/anatomy-of-a-first-aid-kit