Self-driving cars are quickly becoming the vehicle of choice for futurists. But while many automakers are prioritizing the development of accessible self-driving vehicles by as early as 2019, there's still a good deal of work to be done before autonomous cars become additions to every American household.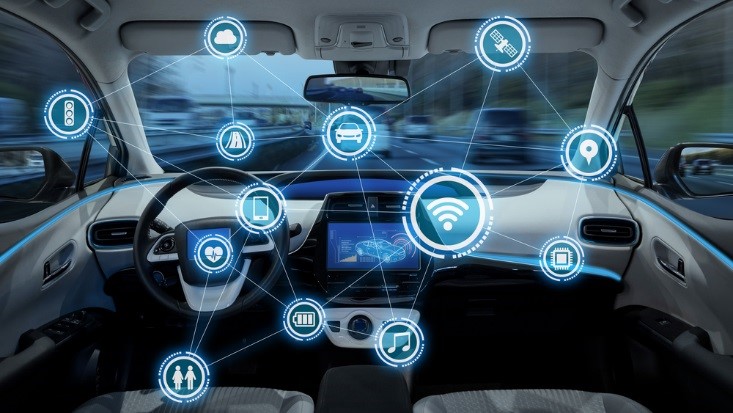 In fact, you may be more likely to have one of these five cool car gadgets or pieces of automotive technology in your vehicle before a four-wheeled robot is driving you to work each morning.
5. Brain-to-Vehicle Technology
Nissan's innovative "brain-to-vehicle" technology is, frankly, downright crazy.
Announced and showcased at the 2018 Consumer Electronics Show in Vegas, the B2V (brain-to-vehicle) system uses EEG brain waves (electroencephalography) to monitor the driver's vital signs in an effort to ultimately improve reaction times by milliseconds. The tech then adjusts the vehicle's path, speed, or braking power to prevent collisions or injury.
Because the ability to measure brain synapses via EEG can oftentimes be problematic, Nissan is cautiously aiming to make B2V a practical application within the next decade.
4. Advanced Tech Car Windows
Rear DVD players and tablet holders are yesterday's news.
GM (and other automakers) have been developing a new form of rear-seat entertainment to replace the ancient gadgets that have kept kids occupied since the turn of the century. In the future, car windows will become interactive displays that are capable of broadcasting videos, accessing weather and traffic reports, changing in-cabin music, and playing games, among other things.
There are no immediate plans to implement this futuristic technology in upcoming Chevy, GMC, or Buick vehicles, but we are excited to see what the GM engineers can muster up over the next few years.
3. 5G LTE Wi-Fi
It seems like we've been living in a 4G world for far too long, hasn't it? The time has come to make an upgrade.
Kia recently unveiled their newest dashboard concept for driverless cars in Seoul, South Korea, but it's their marquee 5G LTE connectivity everyone's raving about. Demonstrated in the Kia HQ, the new 5G connection offers blistering speeds that allow operators to stream bufferless videos, access data, and sync GPS data in the drop of a hat. More importantly, the increased speed of 5G is undoubtedly necessary if autonomous vehicles are to take over the roads.
No standard rollout for 5G service has been agreed upon federally or within the industry, so you may be waiting a couple years before it's available in new vehicles.
2. 3D-Printed Car Parts
Maybe your cousin first introduced you to 3D printers by showing you his custom-designed fidget spinner. Soon enough, carmakers will be taking 3D printing to the next level.
Last year, Ford announced a future strategy to manufacture large-scale auto parts using a specialty 3D printer, which will theoretically reduce the cost of such car parts and vehicles in general. These printed auto parts will be highly durable, lighter in weight, and can be produced virtually labor-free.
To guarantee the 3D-printed car components are safe, Ford and other automakers will continue tests through 2020 and beyond.
1. Wireless EV Car Chargers
For now, electric vehicles must be plugged in to charge their batteries. In the future, charging your EV may be as easy as placing a pad no larger than a floor mat under the chassis.
In 2017, scientists at Stanford University discovered a more efficient way to charge electric vehicles: Wireless charging pads. Much like your Qi phone charger, these EV pads use magnetic resonance and adjusted transmitter frequencies to transfer power organically to the car's battery pack. In laymen's terms, this means maintaining your vehicle's charge may be an unnecessary task entirely.
The biggest perk of this discovery is how it addresses the main disadvantage of all-electric vehicles—a limited driving range. Most EVs are unable to travel more than a few hundred miles before their battery needs to be charged; this solution becomes a charge-as-you-go system that puts those limitations to rest. In theory, the wireless charger enables electric vehicles to operate continually.
Simply can't wait for the new-age car tech to be available? There's still a lot to love about the lineup of current 2018 vehicles for sale at our Kansas City car dealerships! Many of our new vehicles have built-in GPS, safety systems, voice-activated Bluetooth connectivity, and convenient features that alleviate your everyday driving stressors. Come take a test drive by contacting your nearest McCarthy Auto Group dealer in Kansas or Missouri.
Sources & Media:
https://www.autocar.co.uk/car-news/autonomous-cars/future-car-tech
https://www.theverge.com/2018/1/3/16844648/nissan-brain-to-vechicle-self-driving-car-technology-eeg
https://www.theverge.com/2018/1/12/16880978/gm-autonomous-car-2019-detroit-auto-show-2018
https://phys.org/news/2017-06-wireless-electric-vehicles-major-hurdle.html
http://theweek.com/articles/684758/3d-printed-cars-are-future-but-are-safe
https://media.ford.com/content/fordmedia/fna/us/en/news/2017/03/06/ford-tests-large-scale-3d-printing.html