We all saw what The Great Blizzard of 2016 did to the East Coast, and here in Kansas City, we're no strangers to treacherous winter weather. In fact, our McCarthy Collision Centers in Kansas City see a significant spike in the number of accident-related auto repairs due to harsh winter weather conditions. Regardless of the season, the weather, or the temperature, it's always a good idea to practice safe driving habits.
At the McCarthy Auto Group family of dealerships, located throughout the metro KC area and in Sedalia, MO, we're committed to the three S's: service, satisfaction, and safety. We're also committed to keeping your Kansas City roadways as safe as possible, which is why we encourage everyone to follow these 15 safe driving tips.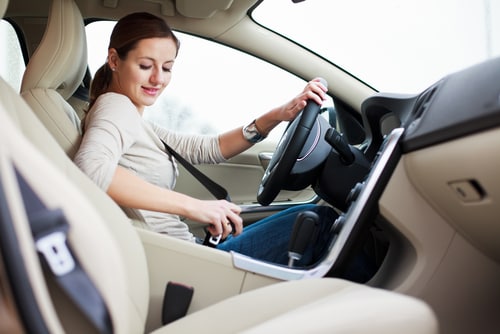 1) Buckle Up
Whether you're driving or riding, seat belts are always mandatory. If you haven't gotten into the habit of wearing your seat belt, now is the time to adopt this essential safe driving habit. Putting safety aside for a moment, proper seat belt usage is required by law here in both Kansas and Missouri. You should also make sure that all passengers are also safely buckled in. If you're traveling with children, always follow the child safety seat instructions and regulations.

2) Don't Drive Impaired
According to the CDC, Every day in the US alone, nearly 30 people lose their lives in motor vehicle crashes involving an alcohol-impaired driver, equating to more than 10,000 deaths per year. Even if you only have a "buzz" from a couple of drinks, certain prescription medicines, or recreational drug use, that's enough to impair driving and put other KC drivers at risk. Driving under the influence is also a serious crime that could land you in jail and cost you thousands of dollars in court costs, plus the loss of your license. Driving impaired in the winter increases these danger significantly.

3) Avoid Drowsy Driving
Alcohol and drugs aren't the only culprits behind impaired driving; drowsy driving is just as dangerous. The website drowsydriving.org reports that approximately 60% of all adults or 168 million people admit to driving while either tired, or have briefly nodded off while behind the wheel. The National Sleep Foundation suggests getting enough sleep, taking breaks every two hours on long trips, and to always pull over to a safe location if you find yourself starting to doze.
4) Don't Drive Distracted
Another factor that contributes to dangerous driving is distracted driving. Using your cell phone, fiddling with audio and temperature controls, or turning your head to talk to other passengers can lead to serious, or fatal crashes. It only takes a few seconds of distracted driving to cause an accident. Our job as drivers is to focus on driving at all times to keep the safety of ourselves, our passengers, and our fellow travelers as our top priority.
Many of the new cars for sale at our McCarthy car dealerships in Kansas City feature hands-free and voice-activated technology, allowing you to keep your hands on the wheel, and your eyes and mind on the road. Some new cars we sell even come with advanced "heads up displays" and safety systems that alert you if you're starting to drift out of your lane.
5) Slow Down
Not only do we want our information delivered instantly to our smartphones, we all seem to be in too much of a rush to get to our favorite Kansas City destinations. Today's accelerated lifestyle can lead to dangerous driving. Even driving between 5 and 10 mph above the speed limit significantly increases the risk of auto accidents. Obeying posted speed limits is not only smart, but it may also spare the risk of costly speeding tickets. Taking it slow is even more imperative when driving in winter weather conditions.
6) Don't Text Or Use Your Phone
Texting or using your phone while driving piles up some alarming statistics. In fact, texting while driving is banned in 46 states. According to the website textinganddrivingsafely.com, texting while driving makes it 23 times more likely to cause a crash. Dialing increases your risk by 2.8 times, talking or listening while driving increases your risk by 1.3 times, and reaching for your phone increases your risk by 1.4 times.
Bottom line? Those incoming calls and texts can wait. However, if you must answer the phone, pull over and do so safely. Your McCarthy Auto Group dealerships will be happy to show you how the latest communication technology, such as hands-free Bluetooth® smartphone connectivity and voice-activated text messaging can increase your safety on the road.
7) Stay Weather Aware
KC weather is notorious for being unpredictable and inconsistent, which is why it is always wise to check the weather forecast before heading out. If severe weather conditions are on the horizon, think about postponing your trip, if possible, or take extra safety precautions.
8) Keep Your Gas Tank Full
Keeping a full tank of gas is important if you find yourself stuck in traffic for long periods of time. Running out of gas is more than inconvenient, it's also a safety risk and damaging to your vehicle's engine. Make a point to fill your tank when it gets down to ¼ full.
9) Steer Into The Skid
If you find yourself hitting a patch of black ice and start to skid, avoid using your steering wheel to over-correct. Look in the direction you're skidding and turn into the skid rather than jerking the wheel in the opposite direction.
10) Maintain Your Vehicle
Whether it's sunny, raining, or snowing, your car should always be up to the task of safely transporting you and your passengers. That's why it's important to make sure your vehicle is in proper working order. Here are some key items to check:
Tires – Look for signs of uneven wear, or any damage to the sidewall. Tires lose air pressure in colder weather, so keep them inflated to the manufacturer's recommendations.
Fluids – Ensure that your antifreeze is at the proper level. The same goes for oil, transmission, power steering, and brake fluids.
Belts & Hoses – Visually inspect belts and hoses, looking specifically for cracks or soft spots in the rubber. Note: never inspect belts and hoses on a running vehicle, or a vehicle that was recently driven. Belt and hose inspections are only to be performed when the engine is cool and turned off.
Battery – Check for corrosion on the terminals and clean with a wire brush if necessary. If your car is having difficulty starting, stop by one of our McCarthy auto repair and service centers, and we'll check your electrical system for you.
Wiper Blades – Weather takes its toll on wiper blades. They are essential for good visibility, so check for cracks, separation, and streaking on a regular basis. Replace with a new set of blades if any issues are found.
Air Filter – A dirty air filter can rob your engine of performance and gas mileage.
Lights – Visually inspect your headlights and tail lights. Replace bulbs or have the headlights adjusted to improve visibility at night.
Brakes – Ensure that your brakes are working properly. If your brakes feel "mushy" or if your brakes pulse or "chirp" when using them, it's time for a brake inspection. We encourage you to take your car to one of our nine conveniently located McCarthy dealership service centers for brake inspection, repairs, and even replacement.
11) Adjust Your Mirrors
Make sure all interior and exterior mirrors are adjusted properly to reduce blind spots. A rule of thumb is to adjust exterior mirrors far enough so that they slightly overlap the viewing area of your interior rear-view mirror.
12) Look Down The Road
Don't get into the habit of looking directly in front of you. You should be looking down the road about a half to a full mile ahead to provide plenty of time to react to obstacles or dangers. Always keep your eyes moving to scan the entire area in front of you.
13) Properly Align Your Headrest
Your headrest should provide head support, not neck support. In the event of a rear-end collision, the headrest helps to absorb the impact and prevent whiplash. Never remove headrests to improve rear visibility.
14) Avoid the "NO Zone"
Big rigs, buses, trucks, RVs, and other large vehicles have much larger blind spots than passenger cars. To stay out of the "NO Zone," avoid following too close behind or in front of large vehicles. If you cannot see the driver of the truck in their side mirrors, then they can't see you.
15) Engine On, Headlights On
Even in the daytime, using your headlights helps other drivers see you better.
A Great Deal Is A Safe Bet At The McCarthy Auto Group
Getting a great deal on a new or used car in Kansas City is always a safe bet when you visit one of our many conveniently located McCarthy Auto Group new and used car dealerships in Kansas City. With a huge inventory of more than 1,500 top-quality new and used cars for sale in Kansas City, it's hard to beat our selection or value.
As the area's leading used car dealers, our family of McCarthy Auto Group dealerships can put you in a quality Certified Pre-Owned vehicle in Kansas City for less. If you're in the market for a new or used Chevy, Hyundai, Nissan, or Toyota in Kansas City, you'll find everything you're looking for, and more, at an affordable price.
In need of professional auto repair services or body work? Count on our McCarthy Collision Centers and Certified Auto Repair Centers for it all! Our skilled technicians are factory trained, use nothing other than the latest equipment and genuine OEM auto parts to keep your vehicle in "like new" condition. Check out the services provided at our Collision Center now, or call 1-800-NEW-AGAIN to speak with a member of our team.
For a complete list of McCarthy dealerships near you, please click here.

Sources:
http://exchange.aaa.com/safety/roadway-safety/winter-driving-tips/#.VeCQbflVhBc
http://exchange.aaa.com/wp-content/uploads/2014/05/Road-Travel-Tips-infographic.png
http://drowsydriving.org/about/countermeasures/
http://www.cdc.gov/motorvehiclesafety/impaired_driving/impaired-drv_factsheet.html